Today we present the first stage of a very special mountain and via ferrata tour.
DOLOMITES WITHOUT BORDERS
Based on the idea that the Dolomites should not be a barrier but a place of gathering and friendship, the project "DOLOMITES WITHOUT BORDERS" was launched.
2 countries – 9 stages – 12 via ferratas – 17 huts – 108 kilometres
A high-altitude trail consisting of 12 via ferratas connects Italy and Austria. Each via ferrata is special: either from a historical or alpinistic point of view.
The high-altitude trail extends over the areas of the Cadore and Alta Pusteria valleys in the area of the Three Peaks all the way to the Tyrolean Gailtal valley. "DOLOMITES WITHOUT FRONTIERS" runs partly along old war paths, trenches and galleries, a "peace trail" on former war sites.
Source: https://www.dolomitisenzaconfini.eu/deutsch/touren/
---
Alpinistically an absolute pleasure!
We would like to introduce you to the 9 stages in the next few weeks to inspire you for your next South Tyrol holiday.
Stage 1 – Rifugio Lunelli – Rifugio Berti/Rifugio Carducci
| | |
| --- | --- |
| Difficulty | difficult(C,D) |
| Route length | 7,2 km |
| Ascent | 733 m |
| Altitude | 1564 m – 2296 m |
| Duration | 9:30 bours |
| Recommended season | June till October |
Starting point: Lunelli Hut (1,568 m) or Berti Hut (1,950 m)
Via ferrata: Roghel and Cengia Gabriella via ferrata
Endpoint: Rifugio Carducci (2.297 m)
Route description
The first stage of the DOLOMITES WITHOUT FRONTIERS via ferrata circuit begins south-east of the Three Peaks Nature Park and leads from the Lundelli Hut to the Berti Hut, where you enter the first via ferrata. This leads to the Carducci Hut, which serves as an overnight base. You should plan at least 9:30 hours for this entry tour, but you will enjoy wonderful views of the peaks of the Hochbrunner Schneid and the "Ciadin de Stallata".
From the Lunelli Hut, hiking trail no. 101 leads westwards. Initially still easy-going, the trail quickly becomes very steep. Only shortly before the Berti Hut, which lies in a beautiful valley basin at 1,950 m, does it become somewhat flatter again.
Bei der Bertihütte folgt man der Beschilderung zum Einstieg des Klettersteiges "Roghel". Zunächst steigt man rund 350 Hm an und erreicht die Forc. Fra le Guglie auf 2.560 m. Der Blick auf die Hochbrunner Schneid und das "Ciadin de Stallata" sind einfach überwältigend. Der obere Teil des Klettersteigs ist ziemlich schwer (D) und verlangt auch einiges an Armkraft. Wenn mehrere Personen im Klettersteig unterwegs sind, musst Du in dieser steilen Rinne unbedingt auf Steinschlag achten. Die langen Abstände zwischen den Seilverankerungen erfordern unbedingt alpine Erfahrung.
Danach steigt man rund 250 Hm ab in das Kar, welches von der Hochbrunner Schneid herunterzieht. Hier kannst Du weiter zum Biwak Battaglione Cadore absteigen. Wer zur Carducci Hütte möchte, muss über den zweiten Klettersteig.
The second part of the tour leads via the second via ferrata "Via Ferrata Cengia Gabriella" (C/D). This runs along the east and south flank of Monte Giralba di Sotto to its west face. From there you descend to the Carducci Hut at 2,297 m, the stage destination.
It is hard to find a via ferrata in such a wild environment in the Alps. The route requires solid alpine experience and safe weather conditions. Especially in early summer, you may still encounter fields of old snow and it is advisable to pack light crampons and an ice axe in your rucksack.
As a day tour from the Lunelli Hut via both via ferratas to the Caducci Hut, a long undertaking with over 1900 m! The best physical condition and safe weather conditions are a prerequisite. Or you can take a little more time and plan an overnight stay in the bivouac.
Under no circumstances should you forget something to rub on your heavy, exhausted legs. We always have a bottle of Arnica – Mountain Pine Lotion in our luggage. It's worth carrying it with you!
So, are you coming to the Dolomites?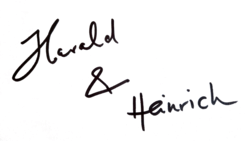 P.S. Unfortunately, we don't have any pictures of this stage for you yet, but we will submit them as soon as our schedule and the weather conditions make the tour possible!