Today we have chosen something particularly delicious for you from the book "So schnell kocht Südtirol". A delicious, juicy Entrecôte from the grill.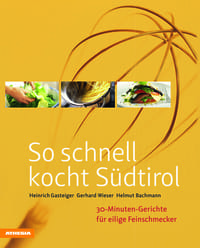 The book makes gourmets' hearts beat faster. It guarantees quick cooking pleasure for gourmets in a hurry – 120 delicious dishes – each prepared in max. 30 minutes.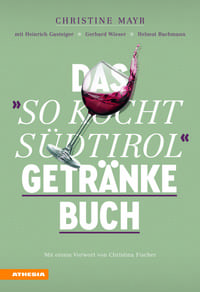 And the "So kocht Südtirol" Drinks Book is ideal for finding out what is best to drink with the various dishes. That's why you'll find not only an exclusive recipe, but also the drink recommendation to go with it.
---
The recipe for grilled entrecôte
Grilling brings out the refined flavour of the entrecôte, which is underlined by the spicy, slightly smoky thyme butter. The braised shallots add a mild onion flavour.
You will need:
4 pieces of prime rib (entrecôte) or roast beef, 150 g each.
Salt and Pepper from the mill
4 sprigs of thyme
50 ml oil for frying

Further
1 pinch of salt (fleur de sel)
black pepper from the mill
200 g glazed shallots
4 rosemary sprigs to garnish

Preparation:
Cut the edges of the fat from the ribs so that the meat does not bulge when roasted, season with salt and pepper.
Heat the oil in a shallow pan. Put the meat in and fry for about 2 minutes, turn over, add the thyme sprigs and continue frying for about 3 minutes. The meat should still be pink inside.
Remove the ribs from the pan, place on a warmed plate and leave to cook for about 5 minutes in a warm place (on the edge of the cooker or in the oven) at 60 degrees.
Cut the ribs into slices and arrange on plates. Sprinkle with black pepper, top with thyme sprigs, drizzle with a little roasting oil and sprinkle with salt flower.
Serve with glazed shallots and rosemary.
---
The right wine
Hearty grilled dishes call for strong, spicy wines that can soften the hearty roasted flavours.
From South Tyrol
Elegant red wine cuvées made from the Cabernet Sauvignon and Merlot grape varieties combine power, tannin and spicy-fruity aromas that blend well with the dish. A slightly higher alcohol content goes well with the juiciness of the dish.
Cuvee Cabernet – Merlot Field Riserva – 2016 – Kaltern Winery
Cuvee Cabernet-Merlot Loam – 2017 – Cantina Termeno
Merlot/Cabernet Curtis – 2018 – Winery Cortaccia

From Italy
An Umbria Rosso IGT, in this case made from Sangiovese and Merlot, scores with spiciness and fruit as well as structure and sufficient tannins. An ideal partner for entrecôte.
Sangiovese – 2016 – La Carraia
Enjoy it!