Early autumn is the time to pick the ripe grapes from the vines. The time of the "wimmen", as we say here in South Tyrol about the grape harvest. You can see and hear the big tractors driving the harvested grapes from the vineyard to the farm. In the vineyards, light wisps of smoke hang in the air, mixed with the smell of polenta bubbling in round copper kettles. The fine, golden-yellow maize porridge – called "plent" here – is traditionally simply part of the wimmen.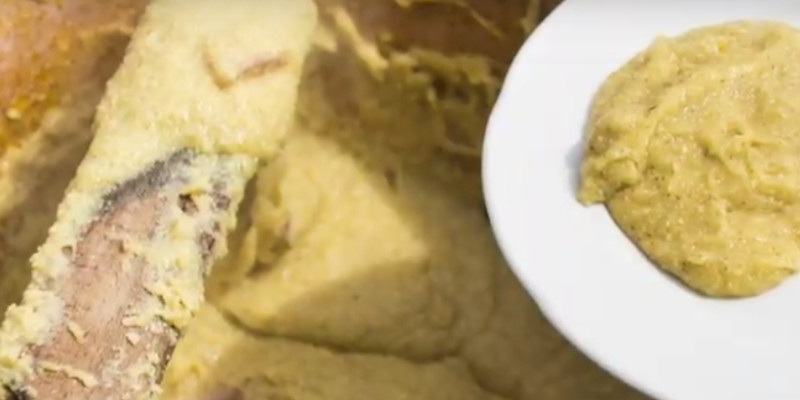 In the past, the church bells rang at eleven o'clock in the morning and the winegrowers made "Feirum" (closing time). A short time later, smoke would rise from the vineyards. Polenta was being cooked. In a copper kettle, because copper is a good conductor of heat. This way the polenta gets hot, doesn't burn and the good crispy "Schearn" (rasps) are produced. This was accompanied by sausages, which were first cooked in the water so that they could give off some flavour and fat to the cooking water.
Today we're doing things a little differently. Our polenta recipe does without meat. Instead, we add tasty South Tyrolean mountain cheese.
So here are the ingredients for four servings of polenta:
400 g corn flour for polenta (our favourites are the flour from Casale Paradiso and the one from Molino Filippini)
1.6 litres of water
1 to 2 tablespoons olive oil
a piece of South Tyrolean cheese – to your taste (we like to use this one)
South Tyrolean butter (any other butter will do, of course)
salt
Preparing the polenta is wonderfully simple – even without a copper pot:
Salt the water well and bring it to the boil. Then slowly stir in the cornmeal with a whisk. Keep stirring so that no lumps form. Then add the olive oil to the mixture and stir it in as well.
Now you can put the whisk aside and use a wooden spoon. For the next 35 minutes or so, let the porridge simmer over a low-medium heat, stirring occasionally so that it doesn't burn.
In the meantime, put the butter in a small saucepan and let it brown slightly.
When the polenta is nice and thick and comes off the bottom, it's ready. Pour it into a serving bowl and sprinkle plenty of your favourite cheese – which you have shaved beforehand – on top. Also add the brown butter on top.
You can enjoy the polenta either on its own, with a crunchy leaf salad (here you will find the recipe for our delicious dressing) or roasted chanterelles. But an original Luganega sausage also goes perfectly.
Ganz wie es dir schmeckt – und das tut es bestimmt!
Viel Freude beim Nachkochen wünschen dir