Today we take you to the last of the six Messner Mountain Museums. The MMM Corones. 
The Messner Mountain Museum, initiated by Reinhold Messner, comprises a six-part museum structure, whereby each house, like a satellite, is dedicated to a sub-theme. We will introduce you to all the museums here one by one. For information on the MMM Ortles, the MMM Ripa and the MMM Juval, as well as the MMM Dolomites and the MMM Firmian. Today we are going to the last of the six Messner Mountain Museums – the MMM Corones.
Traditional Alpinism: Permanent Exhibition at MMM Corones
The supreme discipline of mountaineering
MMM Corones, located on the summit plateau of Plan de Corones at an altitude of 2,275 metres, is all about traditional alpinism, which Reinhold Messner had a decisive influence on. Here, alpine history is told as well as the unique view of the great walls of the Dolomites and Alps is included in the exhibition. At the edge of the most magnificent viewing plateau in South Tyrol, in the unmistakable museum building by Zaha Hadid, the view extends beyond the national borders in all four directions: from the Lienz Dolomites in the east to the Ortler in the west, from the Marmolada in the south to the Ziller Alps in the north.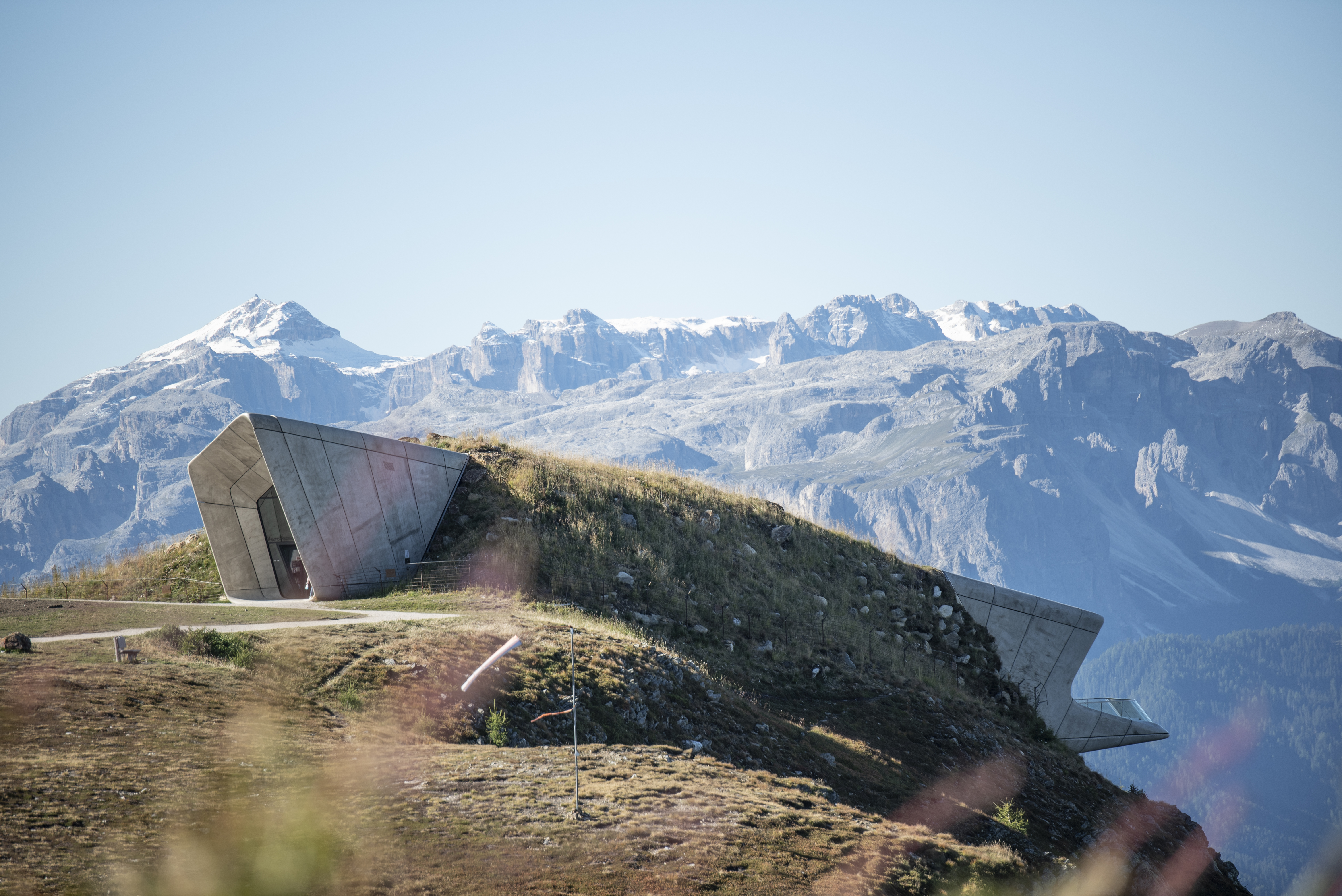 So far the view, so spectacular the architecture
The view from Kronplatz is one of the most beautiful in the Alps: from the Dolomites over the Puster Valley to the Zillertal Alps. At the same time, the mountain lies at the intersection of South Tyrol's three cultures – German, Ladin and Italian. Kronplatz is the most successful skiing area in the country in winter, but in summer it attracts few tourists. In order to revitalise the plateau in the warm season as well and to be able to use the lifts more sustainably, the idea of a viewing platform was born.
Reinhold Messner heard about it and suggested a cultural upgrade: A place of silence, of deceleration. A space for retreat and experience. A museum dedicated to traditional alpinism, as the crowning glory (translated from Ladin, Corones means "the crown") of his museum structure. The well-known skiing and hiking mountain, the peak of hang-gliding and paragliding thus becomes a museum mountain.
MMM Corones Opening Hours & Contact
The MMM Corones is open from 10 am to 4 pm according to the opening hours of the cable cars.
Last admission is at 3.30 pm. There is no closing day.
MMMMM Corones
Kronplatz/Plan de Corones
I-39030 Enneberg/Pieve di Marebbe (BZ)
Tel. +39 0474 501350
Much joy wish you