Did you know that there are an incredible number of bunkers hidden in the protection of our South Tyrolean forests?
Relics from the Second World War. Most of them are locked, some are open as a museum for interested visitors. One of the bunkers, however, has a very special task. We want to tell you today what it is all about and introduce you to our long-time supplier and business friend Hansi Baumgartner and his company DEGUST.
DEGUST – Top-class cheese refinement
DEGUST was founded in 1994 by the well-known South Tyrolean star chef Hansi Baumgartner from Varna near Bressanone. He is a cheese affineur, a specialist in cheese refinement. Baumgartner has incorporated his culinary skills into the refined way of refining cheese. Thanks to his many years of experience, he combines the most sought-after ingredients into cheese and creates refinement techniques that are rooted in traditional preservation methods but at the same time innovative and avant-garde in terms of taste.
Since the place of processing and storage has a strong influence on the final result, it lies in the ability of the affineur (finisher) to find the right place, equip it accordingly and adapt it so that the cheese receives ideal conditions. For example, temperature, humidity, ventilation and darkness are important and must be constant throughout the year.
And that's how Hansi Baumgartner came up with the bunker as an excellent maturing location. It was right on his doorstep, ten kilometres away in the forest. Baumgartner stores the cheese in special cooling cells in the bunker. Thanks to its own construction features, the bunker provides the perfect conditions for temperature and humidity and thus enables optimal cheese ripening.
DEGUST is driven by professionalism and passion for rediscovering, selecting and refining niche products from small cheesemakers that excel in quality and excellence.
Over the years, Hansi Baumgartner and his wife Edith have put all their energies into the DEGUST company, improving and refining not only the cheeses but also their skills. Step by step with determination and the support of employees with the same passion for cheese. Together, like one big family, they have managed to bring DEGUST to the top of the industry.
With this unwavering commitment, they seek out the best raw milk cheeses from around the world to create ever new refinements and guarantee a wide and unique range of products.
DEGUST is definitely worth a visit
If you are in South Tyrol again, we recommend a visit to DEGUST in Vahrn. Take the time to visit DEGUST and gain a tasteful insight into the world of cheese and the work of Hansi Baumgartner. True cheese treasures and rarities await you.
DEGUSTation at home? No problem!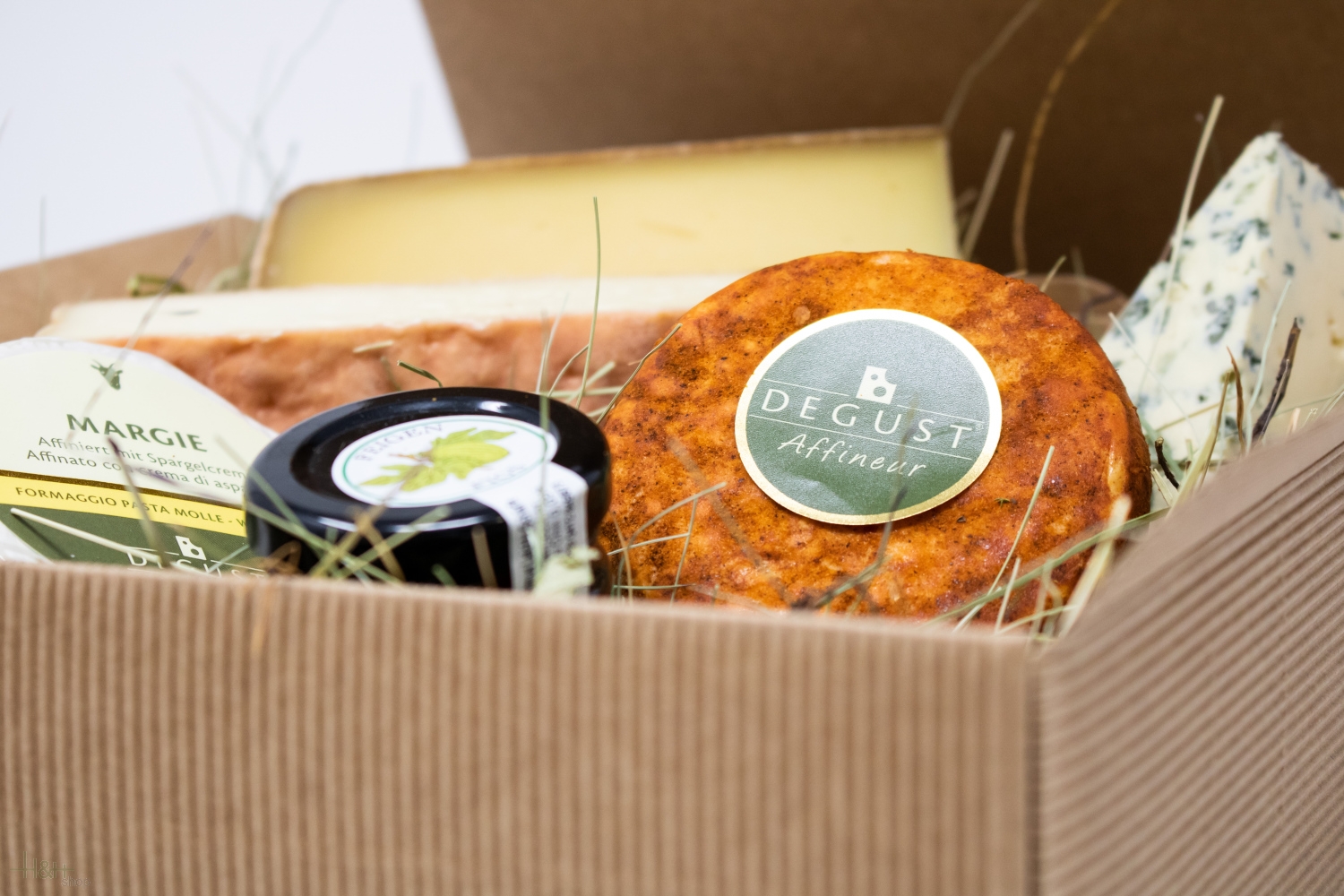 If you don't want to wait until your next holiday, you can also immerse yourself in DEGUST's variety of flavours at home. How does that sound? A selection of fine DEGUST products, a bottle of South Tyrolean Wine to go with it, Schüttelbrot, homemade grissini, maybe some South Tyrolean bacon?
As a selected DEGUST distribution partner, we have the opportunity to supply you with the noble cheese specialities and to immerse you in the versatile world of cheese specialities.
For example, with a DEGUSTation surprise package. This is available for four, six or eight people and the contents are, as the name suggests, a surprise. Enclosed is an information sheet on which the order of tasting is explained in detail. The chutneys that go with the cheese are also included.
So, do you already have a desire or an idea who would be happy about a DEGUST surprise? We can already think of a few people.
Many greetings,