When it comes to regional South Tyrolean products such as bacon and ham, we know no compromise. After all, we want to bring the feeling of South Tyrol home to you with our H&H Shop. And that is only possible with first-class products, for which our producers and suppliers stand. One of them is the Steiner butchery from Antholz. The traditional family business has already received several awards for its meat specialities.
Today we introduce you to the Steiner family, their passion and their products.
The Steiner butchery is already under the management of the third generation of the Steiner family. The butcher's craft simply stands for passion here, with the aim of being a trustworthy contact and supplier of South Tyrolean meat. The Pustertal region is particularly close to their hearts, as it is the home of traditions and the basis for the unique products of the Steiner butchery.
In the production hall of the Steiner butchery, South Tyrolean pleasure is created by many responsible hands. Only the best quality meat products from our own production and from species-appropriate animal husbandry at the farmer's should give pleasure to your pampered palate. The Steiner butcher's shop is an absolute trusted partner for meat lovers.
We do our best every day to offer our customers the highest quality from our home country. Traditional craftsmanship passed down from generation to generation – you can rely on it!

Family Steiner
In 2006, the Steiner family took the step from a small village butcher to a modern production facility. This company development ranks them among the few butchers with their own controlled slaughtering and processing centre for game cutting. Many of the high-quality raw sausage and cooked sausage products are among the best meat products internationally. The Steiner seal stands for excellent taste and South Tyrolean quality products that can be relied on.
Und these quality products include not only the classic South Tyrolean bacon and ham, but also, for example, sausages, various homemade Tyrolean dumplings or game meat specialities. There is even an organic range with its own organic seal.
South Tyrolean bacon – It is the fat that contains strength
But the original South Tyrolean bacon specialities, which have been produced according to an old family recipe for generations, deserve special mention.
But producing original South Tyrolean bacon requires more than just pure expertise. What ultimately makes it so special is the recipe, which is different in every farm and has also been passed down from generation to generation at Steiner. Added to this are the geographical location of South Tyrol and the unique Mediterranean-Nordic production process.
Selected seasoning ingredients clearly set the bacon and ham range from Metzgerei Steiner apart from other products in terms of taste. Gentle salting and seasoning, a gentle smoking process and a lot of patience during the maturing process in fresh mountain air, transform the best drumstick piece into a red and white gourmet delight.
Dumpling love
Round delicacies in the original Tyrolean style. Homemade with love and freshly prepared according to traditional family recipes. Highest quality in many variations, united to the full taste from the region.
Steiner`s Würstel – Fresh, crunchy, tasty
Whether as a soup accompaniment, grilled or simply eaten cold and out of hand. Steiner's Würstel simply always taste good. The pure pleasure is made by the sausage & ham sommelier from selected and high-quality fresh meat and delights young and old.
Venison specialities from the purest nature
There are also numerous venison specialities, from wild boar salami to venison sausages and chamois ham – they consist of a very high proportion of the finest game meat from the great outdoors – the forests of South Tyrol.
You can get a really large selection of Metzgerei Steiner quality products in our H&H Shop. Of course, we ship them – if necessary – in a refrigerated package. In any case, you can bring the taste of South Tyrol home with you.
Warm regards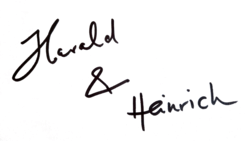 All images are from https://www.metzgerei-steiner.it/