Did you know that South Tyrol has the oldest passenger cable car in the world? The Kohler cable car was built in 1908 and leads from Kampern near Bolzano to the 1,100 m high Kohler mountain.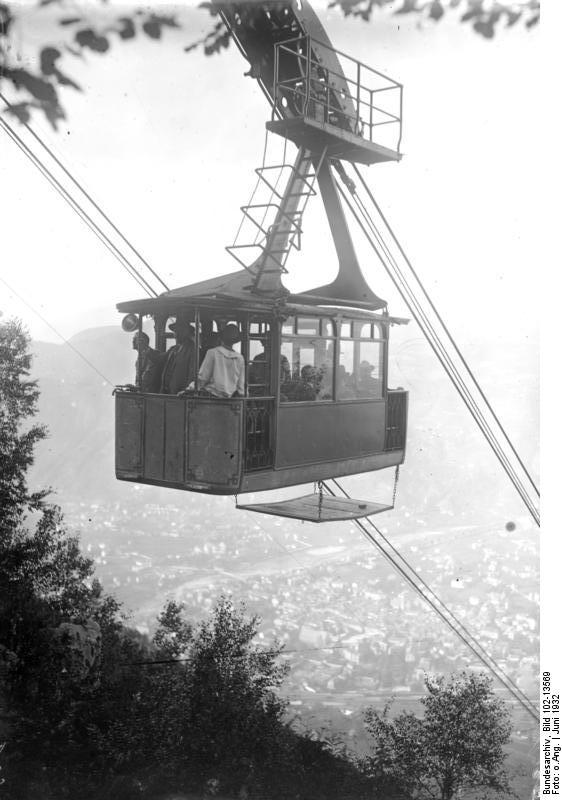 To be precise, it takes you to the village of Kohlern, overcoming a difference in altitude of 835 metres. The cable car was opened on 29 June 1908, which makes it the oldest free-floating cable car in the world: at that time, financed by Bolzano innkeeper Josef Staffler, it was intended to take guests up the local mountain Kohlern.
The view from the cabins and from Kohlern itself is beautiful and includes not only the town but also the high plateau of the Ritten and the Salten as well as the surrounding peaks.
In 2006, the Kohlern cable car was renovated and new cabins were installed: Today they normally take 20 people every half hour (due to corona, currently only 10 people) and bring them to Kohlern in five minutes. Once at the mountain station, numerous hiking trails await visitors. As an alternative to the mountain railway, a 9 km long winding and rather narrow road leads up to the idyllic village.
If you want to find out a bit about the timetable, journey times or simply about the history of the world's oldest passenger cable car, take a look here.
And maybe you'll come by again soon – a ride on the Kohler cable car is always worthwhile.
Greetings,