All of South Tyrol cooks according to the recipes of Gasteiger, Wieser and Bachmann. The books published by Athesia-Tappheimer-Verlag are simply a tribute to the art of cooking.
We are very pleased that, thanks to the cooperation with the Athesia-Tappheimer publishing house, we have the opportunity to present some of the books and recipes of the author trio to you.
The books are of course also available in our H&H Shop.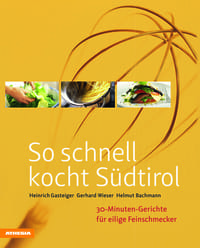 The book "So schnell kocht Südtirol" makes gourmets' hearts beat faster. It guarantees fast cooking pleasure for gourmets in a hurry – 120 delicious dishes – each prepared in max. 30 minutes.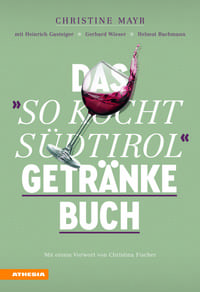 And the right drink manages to make a good meal perfect. The "So kocht Südtirol" beverage book is ideal for finding out what is best to drink with the various dishes. That's why you'll find not only an exclusive recipe, but also the recommended drink to go with it.
---
The recipe for grilled sea fish
Monkfish, sea bass, salmon, tuna and scampi have an intense flavour of their own and a delicately sweet note. The consistency and bite are very different. The charcoal grill also adds a spicy-smoky aroma. The herbs in the marinade provide a balance of freshness and slight spiciness.
For the barbecue marinade you need:
1 tbsp parsley, finely chopped
1 tsp thyme, finely chopped
1 clove garlic, finely chopped
4 anchovy fillets, finely chopped
2 tbsp white bread crumbs
60 ml olive oil
Go to the fishmonger you trust and get some:
4 scampi tails (Norway lobster) 20 g each, cleaned
4 slices of tuna (tonno), 30 g each
4 salmon slices (salmone), 30 g each
4 monkfish slices (coda di rospo), 30 g each
4 slices of sea bass (branzino), 30 g each
You will also need:
4 stalks of lemongrass
Salt Pepper from a mill
The preparation does not take long
The barbecue marinade is quick to make:
Mix parsley, thyme and garlic with anchovy fillets, white bread crumbs and olive oil.
Now it's time for the sea fish:
Skewer the scampi tails on lemongrass stalks.
Salt and pepper the scampi tails, tuna, salmon, monkfish and sea bass and brush with a little barbecue marinade.
Heat the grill, place the sea fish on it and grill at about 220 degrees on one side (do not turn too quickly), then finish grilling on the other side – 4-8 minutes, depending on the size of the fish.
Finishing:
Pour some barbecue marinade onto preheated plates, place the sea fish on top and serve.
---
The matching wine from South Tyrol
A wine made from Pinot Grigio with a slight barrique note brings the necessary structure and substance for this noble dish. The smoky notes of the wine blend harmoniously with those of the fish. South Tyrol produces top products from this grape variety time and again, in which elegance and power are paired.
We have put together a selection of our favourite Pino Grigio for you:
Eisacktaler Pinot Grigio – 2019 – Köfererhof
A full-bodied, elegant white wine, greenish to straw yellow in colour, pleasant, discreet and floral on the nose. Full, soft and pleasant on the palate.
Pinot Grigio Crescendo Opes – 2018 – Winery Ritterhof
Selected grapes and maturation in wooden barrels give this Pinot Grigio its special note: a strong straw yellow, fresh, elegant peach, pear and light toasted aromas on the nose, an elegant structure, pleasant acidity and spiciness on the palate.
Pinot Grigio Unterebner – 2016 – Cantina Termeno
The Pinot Grigio Unterebner is an exclusive wine with golden yellow colour nuances. It has fine, elegant aromas of blossom honey and tropical fruits, with vanilla flavours and slightly buttery notes. Acidity and body are very balanced.
We wish you a wonderful barbecue and taste experience!