Always on Mondays…grocer's, fruit and vegetable market in Terlan
Terlan is a popular holiday village in the Adige Valley. The area around Terlan is particularly favourably situated in climatic terms. So it may come as no surprise that the oldest traces of human settlements date back to the Neolithic Age, about 2000 years before Christ.
The name Terlan is first mentioned in documents in 828 AD as "Taurane" and in 923 AD as "Torilan". Only in the course of time did the name Terlan develop.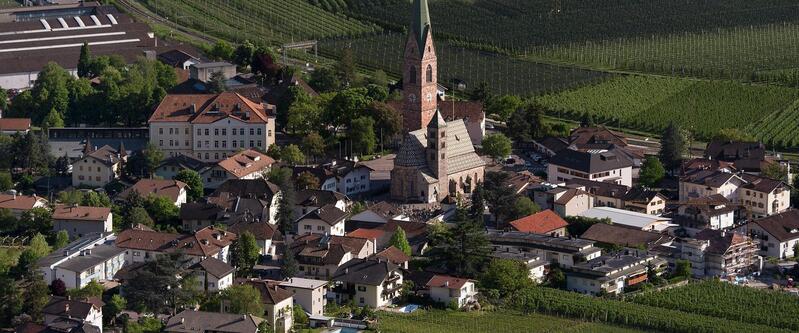 In the Middle Ages, Terlan was the seat of the Neuhaus court, which included the present-day villages of Terlan, Andrian, Nals and Vilpian. The last Tyrolean sovereign, Margarethe of Görz-Tirol, called Margarethe Maultasch, may have inhabited the Neuhaus castle above Terlan (not historically proven). This is why it is better known in the vernacular as the Maultasch ruins than by its actual name.
In the 16th century, mining flourished in Terlan. The main material mined was galena, from which silver was extracted. Due to the low yield, mining was later discontinued. The silver mine brought great prosperity to the people of Terlan. This is expressed above all in the magnificent parish church with its precious Gothic frescoes.
Not far from the parish church, on Dr.-Weiser-Platz, the farmer's or weekly market in Terlan always takes place on Mondays, from 07:30 to 12:30. This is only cancelled on public holidays.
At the weekly market in Terlan, various stalls offer all kinds of products: Food, fruit, vegetables, flowers, clothing, shoes, laundry, etc.
Have fun exploring
The photo comes from https://www.terlan.info/de/terlan/terlan.html