Apple Harvest – Apfelernte
O what delight, to climb the trees
And climb around in the swaying branches!
O welche Lust, auf die Bäume steigen
Und klettern umher in den schwanken Zweigen!
We have to stretch, we have to bend down,
To pick the apples and pears and plums.
Wir müssen uns recken, müssen uns bücken,
Die Äpfel und Birnen und Zwetschgen zu pflücken.
And can we not reach the top,
Where mostly the most beautiful hang,
Und können wir nicht zum Wipfel gelangen,
Wo meist die allerschönsten hangen,
Then we put the ladder on it
And pull the branches with hooks.
Dann legen wir die Leiter dran
Und ziehen mit Haken die Zweige heran.
If that doesn't help either, then comes the best,
We shake all the twigs and branches,
Hilft das auch nichts, dann kommt das Beste,
Wir schütteln alle Zweig' und Äste,
And then when it rains apples in no time,
Then we watch cheering from afar.
Und wenn es dann regnet Äpfel im Nu,
Dann sehen wir jubelnd von ferne zu.
A poem by August Heinrich Hoffmann von Fallersleben (1798-1874)
---
It's that time again – apple harvest time
The hustle and bustle in the South Tyrolean apple orchards has started again. It's apple harvest time.
Already in August the first varieties are ripe, Gala for example, and are taken from the tree. That's when numerous people romp through the widespread apple meadows between Vins chgau, Meraner Land and the south of South Tyrol to "pick" the apples and then take them to the various fruit cooperatives, where they are inspected and prepared for sale. In autumn, the process continues with other apple varieties such as Braeburn and Pink Lady. All the way into November.
South Tyrol is also the purest apple paradise and, with a cultivation area of 18,400 hectares, the largest contiguous fruit-growing region in Europe. With altitude differences of almost 900 metres, every apple variety can grow at the altitude that suits it best.
South Tyrolean apples PGI
And it is not only our South Tyrolean Speck that bears the PGI seal of quality. Many varieties of South Tyrolean apples have also borne the seal, which is protected by EU law, since 2005 and fulfil the strict quality criteria of integrated and organic cultivation.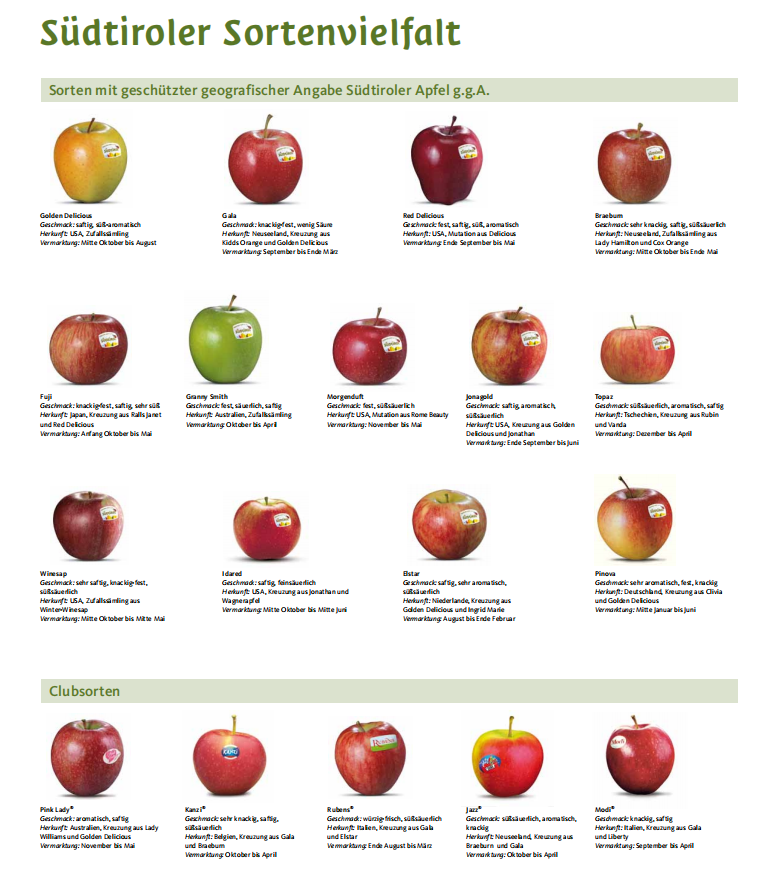 What is your favourite kind of apple?
Many greetings