One of the oldest but also strangest carnival customs in South Tyrol is the Egetmann procession in Termeno, which takes place every Shrove Tuesday in odd-numbered years. Thousands of spectators from near and far come to Tramin to experience this spectacle.
The main figure of this great procession is the Egetmann, who gives his name to the merry goings-on. But the procession cannot be described. Only those who have been there understand that you have to see it. Those who have been immersed in the hustle and bustle, in the eye-, nose- and ear-blinding sounds and smells.
The rattling of the snapping animals, the banging of the Goaßln, the hammering of the blacksmiths, the rattling and clanking, the clanging of sheet metal and iron, the singing of the accordions, the chanting, hooting and bawling, the "Hoho" of the councillors, the clapping of the wet clothes, the shrieking of the spectators, the smoke from ovens and cookers, the smell of juniper, fir and spruce branches, of fuel and exhaust pipes, of hens' feathers, sawdust, dust and soot, of plent, sausages, omelettes, carnival fritters and mulled wine, of steaming horses and flying fish, …
Children in power: The miniature Egetmann parade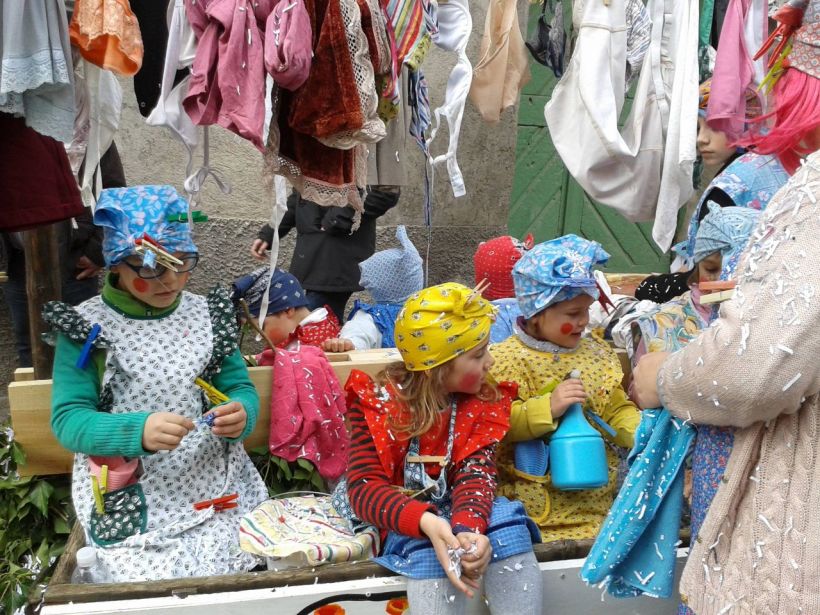 Traditionally, the Egetmann parade takes place every two years on Shrove Tuesday, in the odd-numbered years. For more than 25 years, children in Termeno have also wanted to have their Egetmann. They don't dress up as Superman and princesses, but as washerwomen, brides, pan menders, millers – or, very much in demand, as snapping cattle. So everything remains the same, the characters, the story, the protocol, an Egetmann pageant in miniature. And: the girls are also allowed to take part.
It is impossible to imagine Carnival in Tramin without the Egetmann procession, as it has been taking place since 1591 – actually. This year it would have been the turn of the children's Egetmann procession, which took place in 2020 as the very last carnival event before the big lockdown.
The parade is cancelled this year, just as the big Egetmann parade fell victim to the corona virus last year. For better or worse, the Hans'l will have to do without a wedding and a smart bride for another year.