An Italian evening without antipasti is not an Italian evening. Or something like that. When summer comes, the evenings are longer and the vegetables are tastier, it's high time for a delicious homemade antipasti platter. It's super easy to make and always goes down well. Whether you're invited to a party and want to bring something along, whether you're planning a cosy evening with friends, vino and baguette, or simply with pasta or on bread for your lunch break. Antipasti is a true all-rounder that always fits and tastes good!
For a tray full of antipasti from the oven, you need the following ingredients: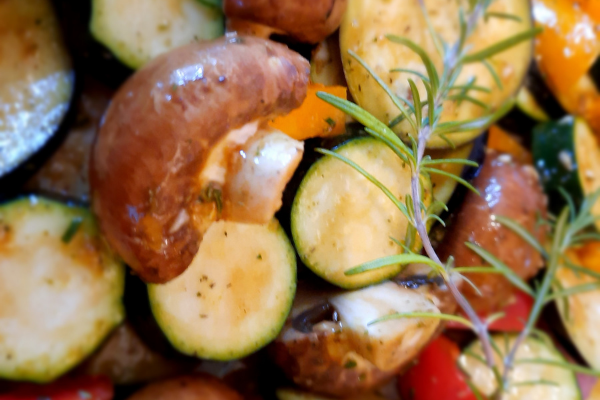 For the marinade:
100 ml olive oil
4 tbsp balsamic vinegar
3 or more cloves garlic
2 tsp dried oregano
1 1/2 hands of fresh rosemary (plucked from the stem)
And fresh vegetables:
1 yellow and 1 red pepper
1 medium aubergine
1 – 2 courgettes
150 g mushrooms
4 shallots

And last but not least you need:
Salt and pepper
And here we are with the preparation of the antipasti from the oven:
First, wash the aubergines and cut them into slices about 0.5 cm thick and salt them heavily so that they release some of the water they contain. Otherwise they will be as tough as shoe soles 😉
Cut all the other vegetables into bite-sized or fork-sized pieces. Halve or quarter the mushrooms and shallots depending on their size.
Now prepare the marinade. Put all the ingredients (except for a few rosemary sprigs) in a blender and chop them into an aromatic marinade. Mix this with the vegetables and place everything on a baking tray lined with baking paper. Let it marinate for another 10 to 15 minutes.
In the meantime, preheat your oven to 200°C top and bottom heat and then place the tray on the middle shelf of the oven. Turn off the oven after 20 minutes, but leave the vegetables to cook for at least another hour. In this way, they gain a lot of flavour but are not overcooked.
When the antipasti has cooled completely, season with salt and pepper, arrange and serve. You can also store it in an airtight container in the fridge for a few days. So it's great to prepare in advance.
Of course, this is accompanied by a great Italian wine, some crispy grissini, olives, salami and ham…an Guatn!