There are three official languages in South Tyrol: German, Italian and Ladin. That really is a very special feature of our homeland and shapes the country and its people. You often see street signs in two languages. But in three languages – that is a rarity. Our menus are also multilingual as a matter of course. Pasta al ragù is just as common as South Tyrolean Schlutzkrapfen.
Germans, Italians and Ladins live in South Tyrol. In everyday life, citizens and farmers converse in more than 40 dialects, which are counted among the South Tyrolean dialects. Italian is spoken most frequently in South Tyrol's capital Bolzano, Merano and in the south of the country. Our "original language", however, is Ladin, which is over 1,000 years old and still spoken by 18,000 people in the Val Badia and Val Gardena.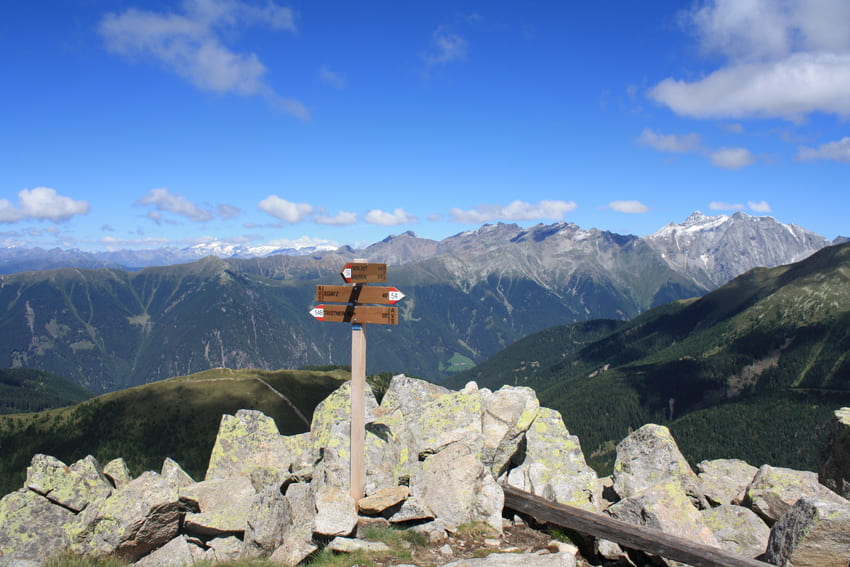 Ladin
With a share of less than 5%, the Ladins are numerically the smallest group in South Tyrol. The language itself, however, is the oldest. Ladin, also called Rhaeto-Romanic, is a neo-Latin or Romance language that developed from vernacular Latin and the original Rhaeto language when the Romans conquered the Alps in the 1st century BC. The majority of Ladins live in Val Gardena or Val Badia. Other areas where Rhaeto-Romanic languages are spoken are Graubünden in Switzerland and certain valleys in Trentino.
German
The German language group represents the largest proportion in South Tyrol. Approximately 70% of our compatriots declare themselves to belong to this group. Historically, the widespread use of the German language can be traced back to the Germanic, Alemannic and Bavarian tribes, some of whom settled in what is now South Tyrol. Many visitors will not immediately recognise the language as German here. On the streets, South Tyrolean dialect is spoken, which differs audibly from the standard German language.
Italian
With a share of 26%, the Italian language group is the second largest in South Tyrol and, culturally and historically, the youngest in the country. Especially under Mussolini, the share of the Italian-speaking population grew.
The Free University of Bolzano was the first trilingual university in Europe. Lectures are held in German, Italian and English.
For us in South Tyrol, all this is a matter of course. For our visitors, a real speciality. But the main thing is, we understand each other!
Many greetings