For the world's best pizza dough, with which your pizza is in no way inferior to that from a pizzeria, you need only a few ingredients. But a little time and patience and preferably a good food processor with a dough kneading function or a hand mixer with dough hook.
For four pizzas you need the following ingredients:
500 g pizza flour
5 g fresh yeast (please use fresh yeast and not dry yeast)
275 g lukewarm water
10 g salt
The preparation of the pizza dough goes as follows:
Put the pizza flour with the salt either in your food processor or in a large bowl. Dissolve the yeast (it's really only 5g!) in the lukewarm water and add it to the flour. Now the dough must be kneaded vigorously. At least for 10 minutes, but also for 20 minutes.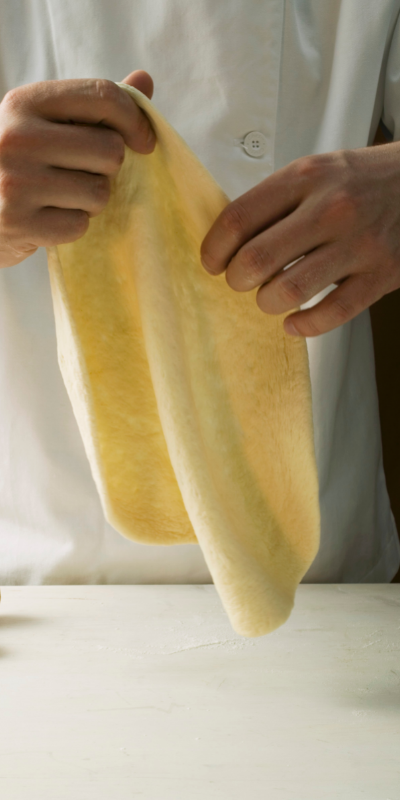 Divide the dough into four portions and form into balls. Place them on a floured board and cover them with a kitchen towel. The dough must now rest for at least six hours in a cool place (in the refrigerator or, at the current temperatures, outside).
But you can also prepare the dough without problems on the lecture or even two to three days in advance. Even after a week in the refrigerator, it can be used without any problems. So in case something is left over.
Now the pizza is baked:
You should bring the dough "into the warm" about 20 minutes before baking, because this makes it easier to work with.
The dough balls are drawn by hand as thin as possible. The ideal thickness is 4 mm or less. That's where practice simply makes perfect.
Preheat the oven to the highest setting. If you have a pizza stone or a pizza oven, all the better.
The dough is spread on the pizza with the tomato sauce or tomato paste (diluted with a little water) from the center. Less is more here. If you use too many tomatoes, your base will soften and the pizza won't have a chance to get crispy.
On top of the tomatoes, add the finely chopped mozarelle and oregano. Now you can really let off steam when topping. Olives, onions, tuna, salami or whatever your pizza heart desires. But again, don't overdo it. The pizza should be nice and crispy.
Now the pizza goes into the oven. Either on the hot tray or on the pizza stone. How long it has to bake depends entirely on your oven. It's best to stay in visual contact. But it probably won't take more than four to five minutes.
When you have taken the pizza out of the oven, you can still refine it with pizza oil and salt and pepper.
We are sure you will love this pizza.